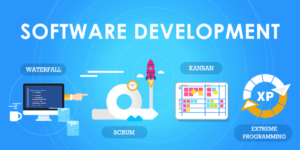 Software development is vital to sustaining modern enterprises that rely on digital technology to help them operate smoothly. Your business needs experienced software developers to build customized digital technology models. If competently done, the final software product can give you an edge in quality against your competitors in the same industry.
What is Software Development?
It's the process of conceiving, designing, creating, testing, and maintaining different software applications. All these computer science activities make up the software development life cycle, which involves our techs getting requirements and turning them into features, then running tests and maintenance that satisfy your user requirements.
Steps in the Software Development Process
At Smart Newtech Solutions, we approach each client's needs by discussing the type of business you operate, your digital technology challenges, and the goals you intend to achieve. Our software development team will then develop a strategy that ensures you get what you want using the following steps.
1. Needs Identification
We work closely with you to identify the software development requirements that serve your specific conditions for the software. The information you provide orchestrates undertaking the following activities that lead to ensuring that the final software fits your business needs.
2. Requirement Analysis
Stakeholders, including our software developers, users, testers, project managers, and quality assurance, discuss and agree on the software development approach to guarantee that we develop a quality software product.
3. Design
Our techs have software development skills to assist you in drawing advanced technical specifications like the architectural design, components, methodology to be used, and budget. We acknowledge that an ideal design contributes to the quality and effectiveness of the software system.
4. Development and Implementation
In this stage, we ensure that the software fulfills the users' needs, is ready for release, and is easy to use. Our front-end developers deal with the interface while the back-end developers deal with the database then they interchangeably analyze each other's code.
5. Testing
Testing is the most critical part of the software development process because expert testers try the functions of the built software and check it for bugs before releasing it to users.
6. Deployment and Maintenance
After the qualified techs confirm the final product is error-free, it can be released to the users. We also provide maintenance services for minor and significant issues that require an update.
We're unrestricted to providing our software development services to startups, medium-sized businesses, and large companies and enabling them to outsource quality, affordable services in the following areas and more:
Custom Software program: We ensure you get the software customized to your business needs and give room for future adjustments.
Complete Software Development Outsourcing: Our company can create a team for you even if you need more internal techs and resources.
Quality Assurance: We have a dedicated team of Quality Assurance specialists who ensure the software development process achieves the highest grade.
Best Practices: Our techs follow the best practices to produce the best quality software.
Contact Smart Newtech Solutions whenever you require software development services to support industry-specific processes and software for advanced business tasks. Email info@smartnewtechsolutions.com or call (786) 659-9047.