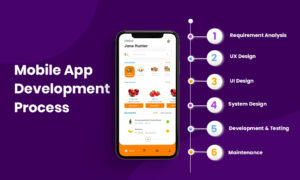 The demand for mobile app development has become popular because the app market is snowballing. It helps you grasp how businesses engage with their customers at every point of their buying journey. Smart Newtech Solutions delivers a wide range of Mobile application services that allow you to choose the one you need or combine multiple services to accomplish perfect results.
Definition of Mobile App Development
Mobile app development refers to the steps used in writing software that runs on small wireless computing devices like smartphones and other handheld devices.
Dominant Device Platforms Used
The modern smartphone market comes in two principal platforms. The first is iOS from Apple Inc and Android from Google. Smartphones from Apple are powered by the iOS operating system and come with an Apple App Store, while Android devices enable you to download more apps using the Google Play Store.
Types of Mobile App Technologies
Our experienced Developers use these technologies in app development:
Native mobile application
Hybrid web mobile application
Progressive web app development
Cross-platform app development
Each technological approach has its benefits and deficiencies.
Native Applications
Our Developers can build the finest native apps for Android and iOS systems customized to your needs. The native mobile app guarantees the best run time performance, and we write it in the programming language and framework the platform owner provides, whether iOS or Android.
Hybrid Apps
We execute hybrid app development based on web technologies like JavaScript, HTML, and CSS. Unlike Native apps, Hybrid uses web apps but still manages to allow you to enjoy the features of Native apps and is cost friendly and easy to maintain.
Progressive Web Application
Our techs also build Progressive App Development that doesn't need an app store or an app installation, allowing you to access the app through a URL and is dependent on a browser.
Cross Platform Application
Depending on your preference, our techs are experts in cross-platform app development that use the same code for iOS and Android apps using different programming languages and frameworks. This technology will save you money and comes with custom features that optimize your users' experience.
How Mobile Apps Help Businesses
As we work together to understand what your business needs are, we ensure our app development services lead to the following results:
Enhanced Efficiency: Mobile apps with incorporated shopping carts and food ordering systems will boost online purchasing and utilizing the app. We also build employee scheduling apps to improve employee engagement and ensure everything is clear at work.
Grow Sales: We develop loyalty programs in our apps that secure your clients' returning and spending more than they previously did. You can include a reward system to provide additional bonuses to buying customers.
Loyal Client Base: The customer is the most vital part of a business. When building mobile apps, we aim to ensure you engage with your customers and turn them into virtual brand ambassadors by offering an incentive for each referral. Also, your customers will get to interact with your business at any given time.
Contact our skilled app development team at info@smartnewtechsolutions.com or call (786) 659-9047 to help you build a mobile application for iOS and Android platforms.