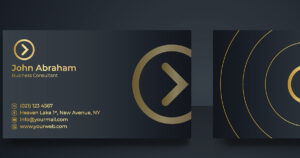 Your custom business cards design needs to be exceptional to make a lasting impression on the potential customers that they feel compelled to retain it. Our expert team at Smart Newtech Solutions can help you to create professional business cards that stand out against competitors and convey your company's identity. We can also redesign your current business card to achieve your desired look.
Different Types of Designs
Here are the creative business cards design types you can choose from to enhance your professionalism.
Business Cards Based on Format
The competitive nature of the business world calls for settling for a business cards design with a proper format to make your enterprise unique.
Horizontal Business Cards: It's the most commonly used business card worldwide. Our experts employ a simple and minimalistic strategy to capture all the details required on the card.
Vertical Card: Vertical cards are becoming popular in the modern business world, and we ensure it gives your brand a whole new representation.
Circle Business Cards: They are rare, but they can distinctly demonstrate your business identity and create interest among newfound associates.
Half Circle Business Cards: Though not popular, it's a modern business cards design idea that can make your enterprise stand out.
Custom Shape Cards: We allow you to use custom shape photos to create designs for your business cards that align with what your business does.
Business Cards Based on Design
One of our business cards design requirements is communicating your preferred design that your customers want to see. Here are some of the techniques our professionals handle:
Single Side/ Double Side: We can create business cards with information on either side. It all depends on what you want. If you opt for the single side, we ensure we don't overload both sides with information.
Transparent Plastic Card: Our company creates business cards out of PVC transparent cards that make your customers want to keep them forever because of their uniqueness in pushing your brand.
Colorful Business Card: Once you tell us the colors your customers like, we ensure to catch their attention with a bright business cards design without overdoing it.
Minimalistic and Professional: Our designs follow a simplistic approach by ignoring unnecessary information but more professionalism
Business Cards Based on Structure Material
After we finish with the format and design, we move to the material you want the business to appear.
Paper Business Card: Our business cards design focuses on paper quality, weight, and final appearance.
Transparent Plastic Business Card: We use plastic as a substitute for paper cards and ensure they leave an enduring impression on your customers. Most receivers of this durable business card keep them for their beauty and uniqueness.
Metal: Metal business cards will get your customers thinking about your brand personality and value. Such cards are suitable for big businesses because of their high cost.
Business cards design services from Smart Newtech Solutions ensure you give out the vital contact information of your business in a professional way. It also shows the level of your company's professionalism.
Ready to get started on your design? Contact us at info@smartnewtechsolutions.com or call (786) 659-9047.