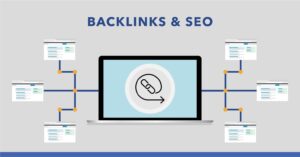 You need an effective link-building strategy to help you rank top of Google and other search engines. Smart Newtech Solutions enables you to build high-quality backlinks that ensure you conquer Google search results and beat your competitors' ranking everywhere. Our backlinks strategy works towards your site's organic growth and greater visibility. Here's what you need to know.
What are Backlinks?
According to Backlinko, Backlinks which are occasionally known as "inbound links," "incoming links," or "one-way links," are links from one website to a page on another website. Relevant and organic backlinks from websites with high domain authority increase your site's credibility and boost search rankings.
Why are Backlinks Important?
Backlinks are a vital part of our holistic SEO strategy. When sites with high domain authority mention you, search engines will likely view your business as trustworthy. We can help you earn and build backlinks using data-driven approaches and ensure you get high-quality backlinks that possess the following characteristics and more:
We guarantee the backlinks come from high-domain authority websites
The links anchor text includes the target keyword
Sites with backlinks to your site should have a common subject and interest
We ensure the backlinks you receive are not duplicates from the same website
How to Earn Backlinks
When you outsource our services to build backlinks for your website, we walk with you throughout the long journey while exploring the following and other services:
Quality Content
The initial stage to getting high-quality backlinks includes producing engaging and valuable content that provides solutions to users. Content marketing goes together with search engine optimization because authoritative websites will only give backlinks to your website if you have a linkable asset to offer their site's visitors.
Guest Posting
Guest blogging is one of the best ways to build backlinks. We ensure you write perfect blog posts and other types of content for high-authority websites in your niche. If the site's owner likes the scope and posts them, they can allow you to include a do-follow link back to your site. They can do the same by writing posts to your website, thereby creating vital backlinks.
Investigating Competition Backlinks
We help you accumulate ideas by researching backlinks to know which sites link to your competitors. From there, our experts produce quality and informative content to ensure those sites link to your website.
Broken Link Building
This backlinks strategy involves looking for pages with 404 errors, notifying the website's owners of the discovery, and then providing your content as a remedy for the damaged link. We ensure you get backlinks if your proposal is accepted.
Backlinks Audit
Our professionals at Smart Newtech Solutions will help you identify risky backlinks lurking in your backlinks portfolio that can destroy your website. We highly recommend a backlinks audit if you want to begin a link-building journey. It helps you separate vital from wrong links and ensure you get a competitive edge in search engines.
Are you trying to improve your search rankings and expand your digital marketing? Contact Smart Newtech Solutions at info@smartnewtechsolutions.com or call (786) 659-9047 for professional backlinks services.