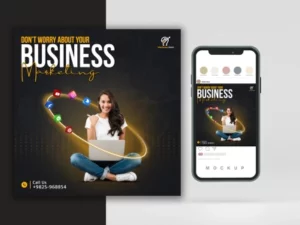 With most businesses operating online, many people think that banner design is a thing of the past. That's not the case because online enterprises also need banners to promote their brand identity online and offline. At Smart Newtech Solutions, we create a banner design that ensures your online business grabs visitors' attention and gets them to click on your website.
Our Professional Banner Services
Our customized banner design services work precisely to ensure your banner gets a good mix of color, image, logo, and words that match your business goals. We build 100% unique banners without reference to templates or robots and recommend catchy words and worthy colorful combinations. We specialize in the following banner design categories.
Web Banner Designs
Our banner design experts guarantee your web banners are tailor-made to improve your marketing and promotion of your brand online. We use high-quality animation to attract visitors and carefully ensure it doesn't interfere with the web page design.
Outdoor Banners
We produce a stunning outdoor banner design for your company. You can outsource our services, which include adding catchy phrases to ensure your banner receives the attention it deserves. We make it brief and catchy to allow your customers to read it quickly and still realize your institution's reputation and brand identity.
Event Banners
Our professionals can create a pull-banner design to help you promote your product, no matter your brand industry. We design these banners for you to strategically position them at your events, entrances, trade fairs, and other vital areas likely to attract attention.
On-Site Promotional Banners
Once you communicate your niche, our professional banner design creates your on-site banners bright and flashy, making your internet experience more appealing. It's an excellent way to improve business leads and clicks to your website because they convey promotional information like discount offers and new arrivals.
Display Ad Banners
Our creative banner design services can help you design display ad banners for your social media platforms and blogs.
Design Process
We use the following simple steps to achieve quality banner design for your business:
Project Questionnaire: We provide you with a questionnaire to fill your needs for your design. It helps our experts carry out their research.
Sample Delivery: Our team of designers works together to get a sample banner and send it to you for recommendations and possible corrections.
Final Product: We ensure the final design is ready for promotional purposes. It's sent over with features satisfactory to your demands.
Benefits of banners
The user of a banner guides its design because each type has its use. Here are some of the benefits of banner design:
Advertising: Banners are the principal medium used in advertising products to increase customer traffic, whether physical or virtual banners found all over the internet.
Promotion: Banners will help you promote specific products at promotional events you can think of launching.
Flexibility: Our banner design allows versatility, whether digital or printed, and we can still redesign them in any shape and size you want.
If you desire people to notice your brand and improve customer traffic, contact us at info@smartnewtechsolutions.com or call (786) 659-9047.